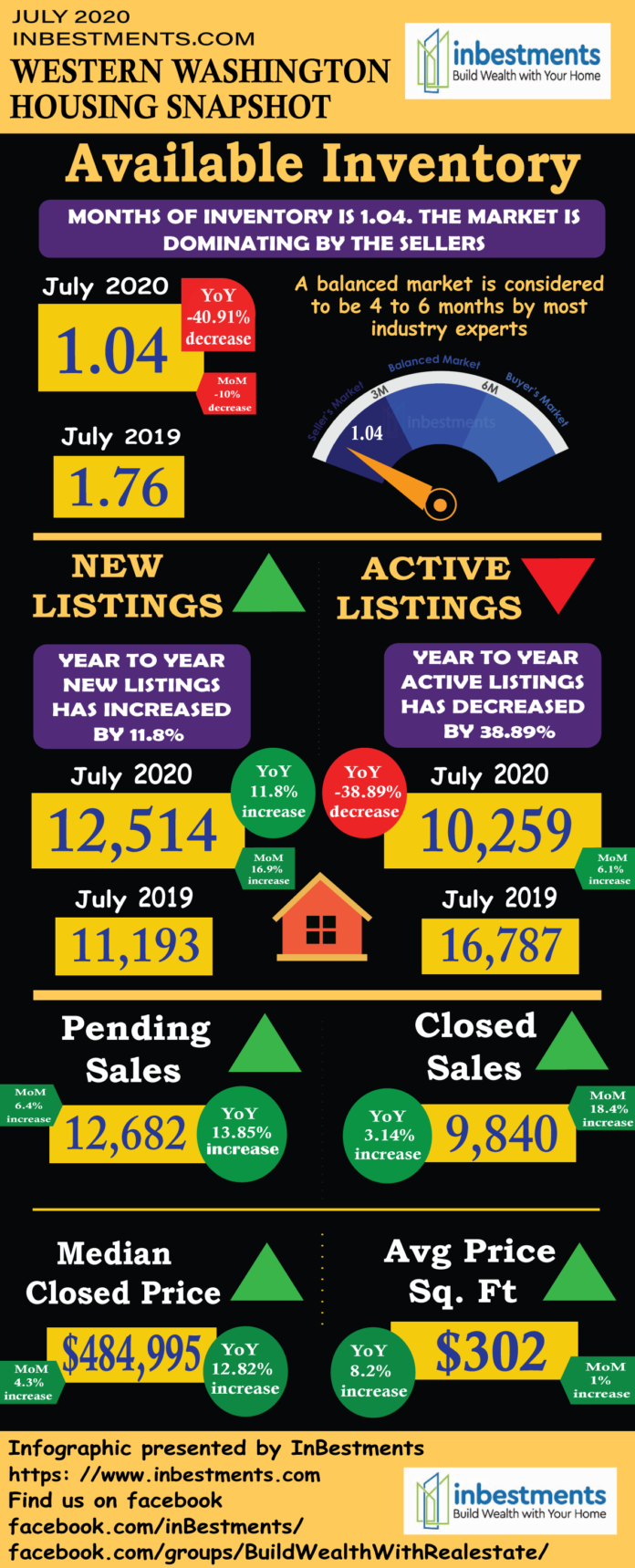 Last month saw the largest monthly number of new listings since May 2019. However, supply is extremely anemic at just 1.04 months of supply.
Buyer demand continues to be incredibly strong💪 with multiple bids becoming a norm.
⚖️The supply/demand imbalance is causing prices to accelerate.
📈Median home price in King County has increased by 7.20% while it jumped by 13.4% in Pierce County, by 13.84% in Snohomish County and by 11.84% in Kitsap County.
𝐅𝐨𝐫 𝐩𝐞𝐫𝐬𝐩𝐞𝐜𝐭𝐢𝐯𝐞, 𝐢𝐟 𝐲𝐨𝐮 𝐡𝐚𝐝 𝐛𝐨𝐮𝐠𝐡𝐭 𝐚 𝐡𝐨𝐦𝐞 𝐬𝐚𝐲 𝐟𝐨𝐫 $𝟓𝟎𝟎𝐤 𝐢𝐧 Snohomish 𝐜𝐨𝐮𝐧𝐭𝐲 𝐚 𝐲𝐞𝐚𝐫 𝐚𝐠𝐨 𝐰𝐢𝐭𝐡 𝟐𝟎% 𝐝𝐨𝐰𝐧 𝐢.𝐞., $𝟏𝟎𝟎𝐤 𝐝𝐨𝐰𝐧 𝐩𝐚𝐲𝐦𝐞𝐧𝐭, 𝐲𝐨𝐮 𝐰𝐨𝐮𝐥𝐝 𝐡𝐚𝐯𝐞 𝐚𝐝𝐝𝐞𝐝 $𝟞𝟡,𝟚𝟘𝟘 𝐢𝐧 𝐰𝐞𝐚𝐥𝐭𝐡 𝐯𝐢𝐚 𝐡𝐨𝐦𝐞 𝐞𝐪𝐮𝐢𝐭𝐲. 𝐒𝐨, 𝐲𝐨𝐮𝐫 $𝟏𝟎𝟎𝐤 𝐢𝐧𝐯𝐞𝐬𝐭𝐦𝐞𝐧𝐭 𝐡𝐚𝐬 𝐩𝐫𝐨𝐯𝐢𝐝𝐞𝐝 $𝟞𝟡,𝟚𝟘𝟘 𝐑𝐎𝐈. 𝐍𝐨 𝐰𝐨𝐧𝐝𝐞𝐫, 𝐑𝐞𝐚𝐥 𝐄𝐬𝐭𝐚𝐭𝐞 𝐢𝐬 𝐜𝐨𝐧𝐬𝐢𝐝𝐞𝐫𝐞𝐝 𝐭𝐨 𝐛𝐞 𝐚𝐧 𝐞𝐬𝐜𝐚𝐥𝐚𝐭𝐨𝐫 𝐭𝐨 𝐠𝐞𝐧𝐞𝐫𝐚𝐭𝐢𝐨𝐧𝐚𝐥 𝐰𝐞𝐚𝐥𝐭𝐡.

🤔Thinking of buying or selling? This is a great time to do it to take advantage of the historic lowest Mortgage rates to buy that dream home or a few cashflow investment properties.

🛎️Visit www.inbestments.com to get access to true wealth-building homes whether you are buying your first home or 60th investment property for cash flow/equity growth.
🙋Questions? Please feel free to message us.